C-Map NT+
C-MAP NT+ cartography helped launch a digital charting revolution years ago, and it is still as useful and reliable as ever. For fishermen, sailors and cruisers who continue to depend on C-MAP NT+, there are updates twice annually to ensure that navigators benefit from all the latest Coast Guard Notice to Mariner (NTM) changes and other important chart data updates.
As one of the most reliable chart options for boaters worldwide, NT+ charts continue to deliver exceptional quality and value to navigators worldwide. CMAP's classic line of electronic charts offers the same reliable navigation detail easy-to-use features you expect in all C-MAP products.
Fishing Contour Charts help you spend less time searching for fish and more time catching them, Available for both NT+ and MAX compatible chartplotters
C-MAP NT+ Full Featured Vector Charts provide boaters with the accurate, up-to-date vector chart detail including Depth Areas and Contours, Spot Soundings, NavAids, Light Sectors, Wrecks/Obstructions, Small Craft Facilities and more.
Harbour and Approach information allows boaters approach any harbor and inlet with confidence — the perfect conclusion to a long voyage, sailing adventure or exciting day of bluewater fishing.
Tides Feature presents the time, water level and direction of tides with Tide Level graphs. This information is vital for navigation and fishing
Marina Port Database displays harbour hours, harbour master contact info, nearby lodging Y restaurant options, VHF call-in details, photo's and much more
Please check compatibility with your chartplotter before proceeding with an order.
Simply choose your chart area from the drop down list on the right.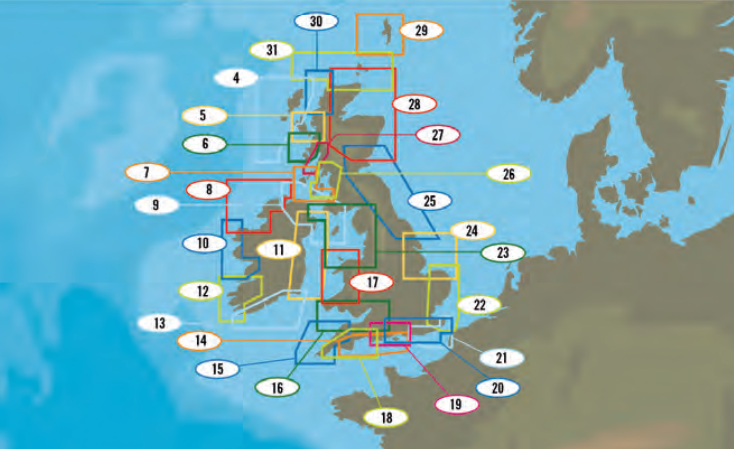 Choose from:
4 – EW-C043 - Western Isles
5 – EW-C027 - Isle of Skye
6 – EW-C026 - Mull to Loch Nevis
7 – EW-C024 - Firth of Clyde To Sound of Jura
8 – EW-C032 - Benwee Head to Culdaff Bay
9 – EW-C033 - Strangford Lough to Lough Foyle
10 – EW-C031 - Kilkee Bay to Benwee Head
11 – EW-C028 - Strangford Lough to Saltee
12 – EW-C030 - Mizen Head to Limerick
13 – EW-C029 - Waterford Harbour to Mizen Head
14 – EW-C050 - Dartmouth to Southampton
15 – EW-C017 - Falmouth to Lundy Island
16 – EW-C020 - Bristol to Milford Haven
17 – EW-C021 - Cardigan Bay
18 – EW-C019 - English Channel Western
19 – EW-C018 - English Channel Central
20 – EW-C051 - Lymington to Dover
21 – EW-C040 - English Channel Eastern
22 – EW-C038 - Dover Strait to Great Yarmouth
23 – EW-C022 - Irish Sea
24 – EW-C037 - Bridlington Bay to Cromer
25 – EW-C036 - Bridlington Bay to Montrose
26 – EW-C023 - Firth of Clyde
27 – EW-C025 - Loch Crinan to Loch Linnhe
28 – EW-C035 - Scotland North: East Coast
29 – EW-C041 - Shetland Islands
30 – EW-C044 - Scotland North: West Coast
31 – EW-C042 - Orkney Islands
C-Map NT+ Cartography Small Area
Brand: C-Map
MPN: See options
Model: NT+ Local
Availability: In Stock
Lead Time: 3-5 days
Related Products
Tags: CMAP NT Charts, CMAP Charts, C-MAP NT, C-MAP charts, CMAP local, C-Map local, CMAP UK, C-MAP UK, CMAP NT+